Home Page
When you first log in to myStage, all users are presented with the home page.

This screen shows the current date by default, and all sections and competitors for that date. The information shown is filtered by the All Events and All Locations you see in the menu bar up the top.
When running events, users would choose the event and location so that only the information they need for the day is shown.
If the user is an administrator, a gear icon will be shown in the menu bar, and a link to Admin will be shown in the user profile dropdown.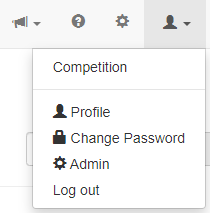 Administration Home
As an administrator, a user has access to a number of different configuration options for running a competition.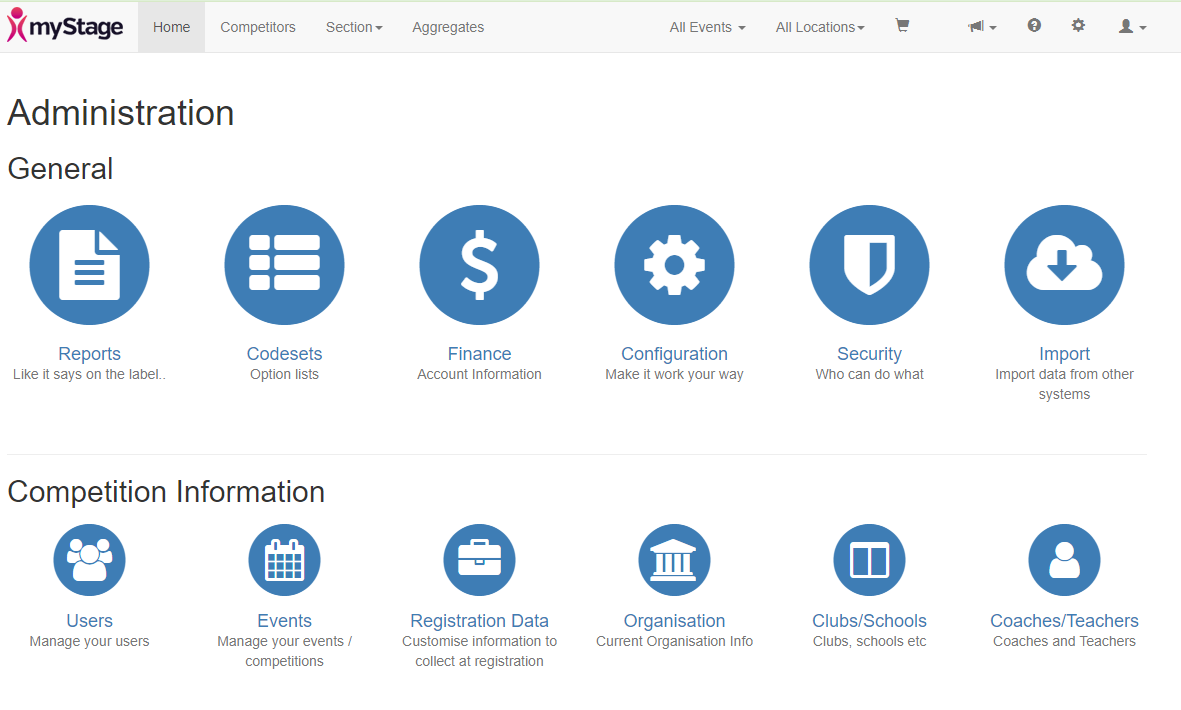 | Area | Summary |
| --- | --- |
| Reports | Generate a number of reports an export information from myStage |
| Codesets | Configuration of a number of items, lists for dropdowns etc |
| Finance | Invoices, Refunds and Disbursement information |
| Configuration | Some global configuration options for your organisation |
| Security | Configuration of registration data and entry status permissions |
| Import | System for importing a number of different file formats |
| Users | User management, both administrators and volunteers |
| Event | Each competition is setup as an event, with start/end dates and other information |
| Registration data | Information to be collected from competitors; per event or entry |
| Organisation | Information for your current organisation. Some users can manage multiple organisations |
| Clubs/Schools | List of approved clubs and schools for your competition |
| Coaches/Teachers | List of approved coaches or teachers for your competition |
Codesets
The codeset area of myStage allows you to setup a number of different items, for competition management or user profile information

| Codeset | Summary |
| --- | --- |
| Title | Name titles/prefixes (Mr, Mrs etc.) |
| Event | Same as events above. |
| Location | List of venues your events are running at |
| Entry Extras | Extras that can be added during entry. DVDs, Smoke, Programs, Merchandise etc |
| Score Guides | Scoring breakdown if recording critiques within myStage |
| Ages | Age ranges for entries. eg. 16 Years, Under 10 |
| Age Groups | Grouped ages: Junior, Senior etc. |
| Divisions | Performance Divisions |
| Items | Performance Items |
| Performance Types | Performance Types: Solo, Duo, Trio, Group, Band etc. |
| Time Limits | Time ranges for performances. For both rule management and time keeping/scheduling |
| Aggregates | Configuration for which sections should be included in aggregates |
| Lighting Sheets | System lighting sheet field configuration |
| Splits | Section split options. (Used to restrict from aggregates) |
| Roles | System roles for |
| Colours | For colour coding sections. (Useful for sticker/paperwork management) |
| Terms and Conditions | Setup of terms and conditions required to enter competitions |
Finance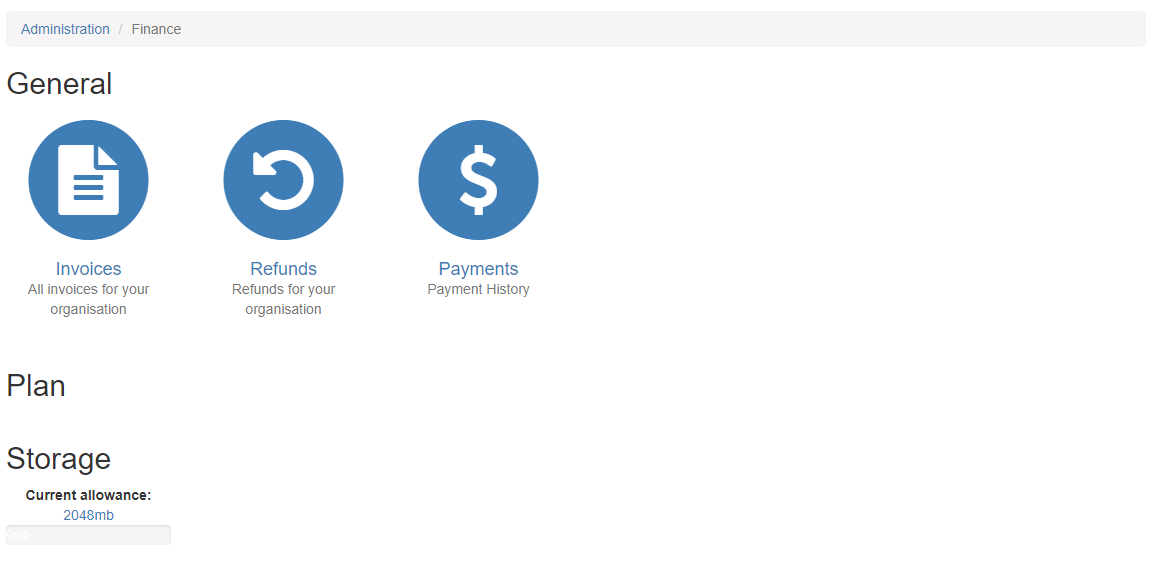 The finance area of the administrator panel shows invoices, refunds and disbursement payments.
The plan area also shows the storage your competitors have used while uploading registration data, such as music or DLP files.
Configuration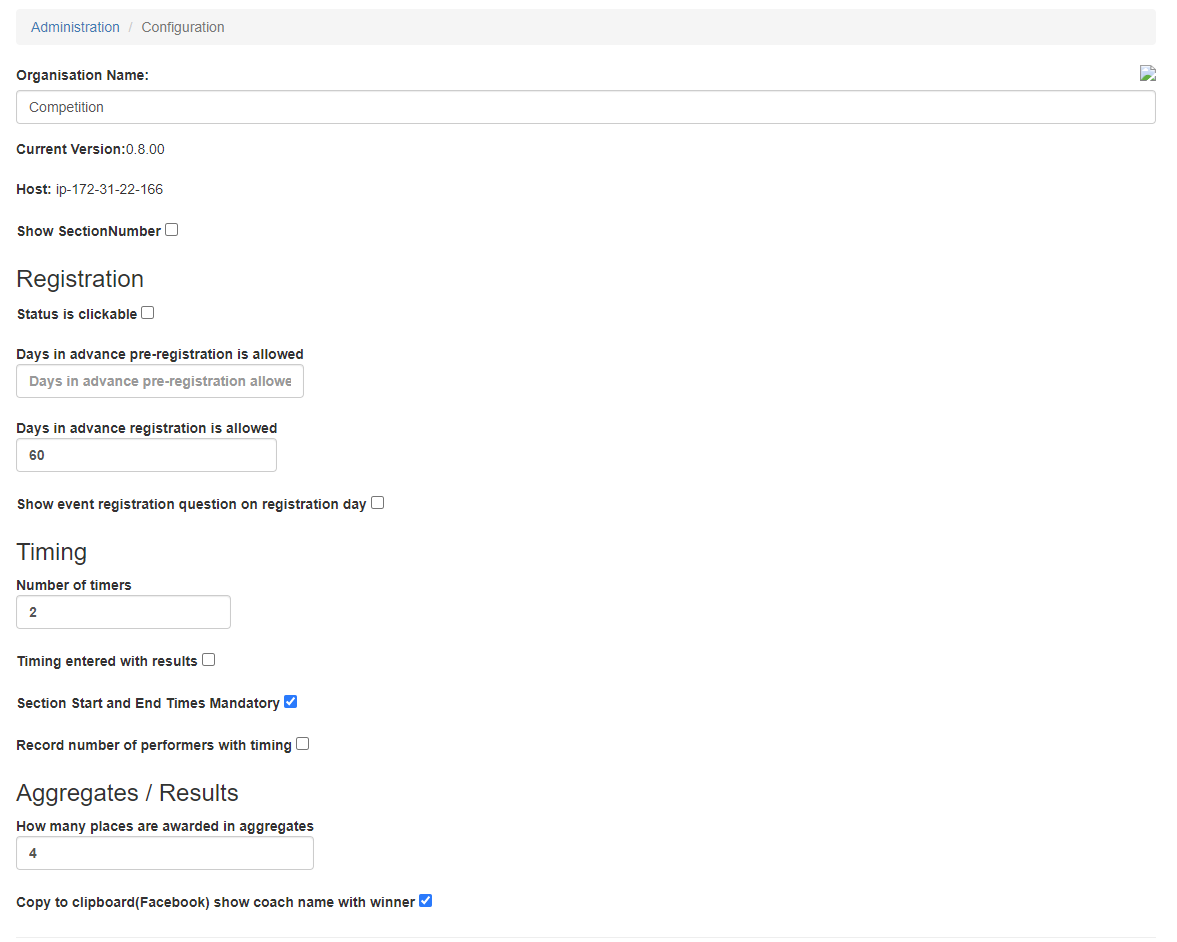 The configuration area has a number of configuration options to customise some areas of the system. These are global settings. More settings are available on events.
Events

Each competition you run is setup as an event. This has a start/end date, and also has a number of options required for the entry process.
Registration Data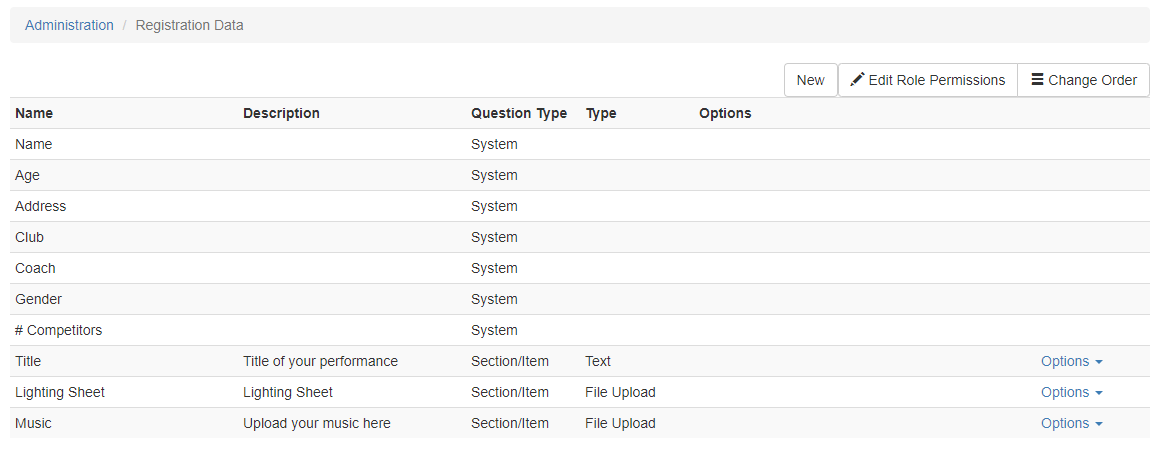 Registration data is used in the system to add a way to customise questions that competitors are asked during registration/pre-registration, and only show questions relevant to that section.
Organisation
The organisation page holds your organisation details, as well as banking details so we can disburse entry money to you.
Clubs/Schools
Events can be restricted to approved clubs or schools. Set your approved list up here.
Coaches / Teachers
Events can be restricted to approved coaches or teachers. Set your approved list up here.