How to setup for entries

We are going to use sample data for Ballaarat Solo Comp organisation to demonstrate this setup. Please note this data is only used for demonstration purposes and each organisation would need to use their own information to do the setup, but they are exactly the same steps. A similar setup would need to be completed on myStage main site once you are confident with this process.
1. Setup or update your organization information
a) Login into mystage.net.au with your administration username and password
b) Navigate to mystage administratin screens by clicking on the gear icon as shown below.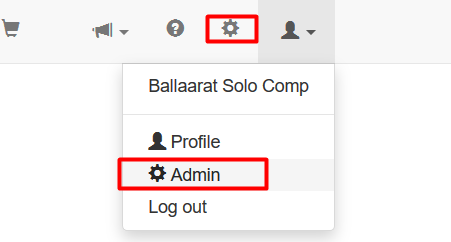 c) Select organisation under the admin menu, click under options and choose Edit. Provide the required 
details, then press save. !Note: an organisation code is usually recorded when an organisation is created
in myStage, but follow this process if it is not already setup or is incorrect.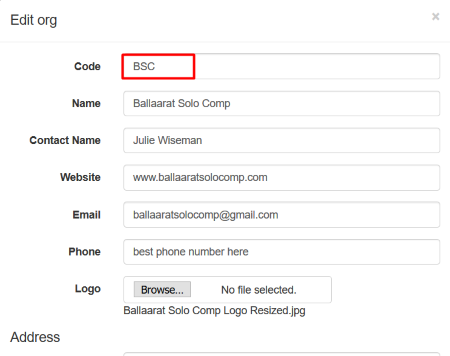 d) Ensure your address and most importantly your bank details is correct and up-to-date
   Save Changes when done with the organisation information edit.

2. Set-up Relevant Location Information
a)  From Codesets screen in the Administration panel, click on Location
b)  Click 'New' link to create a new location or Edit to update existing one


c) On the new location screen, provide a code (short form of the a name) and the name of 
    the venue/location for example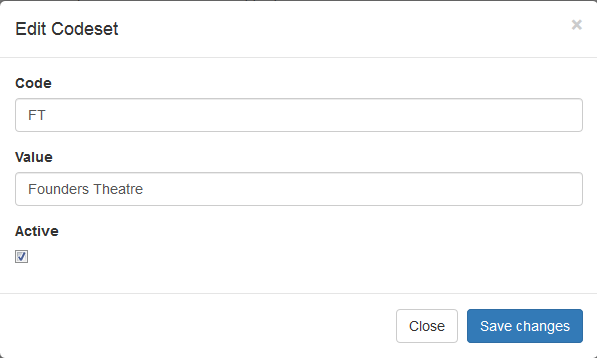 3. Set-up or Update Entry Extras and the relevant Costs
a) From the admin panel -> Codesets -> Click on Entry Extras tab
   You can update the existing ones by clicking - Options -> Edit or 
   Create a new entry extra by clicking on the 'New' button, then provide the
    name and the description of the entry extra eg DLP, Photography etc.

Choose the relevant question type. There are only two (Section/Item or Invoice/Order). If the entry extras need to be purchased under every item, then choose Section/Item otherwise choose Invoice/Order).

  b) Once you have created your event entry extra/s, you need to map each to the relevant
  (Item, Age, division or performance type), Save changes when done.
   To Map it, select options alongside the entry extra, click on Edit Mapping ->'Add Codeset Mapping Group)

4. Different Entry fees for different Items
You can have different entry prices for different items/sections.
a) In myStage, a general entry price per section is set in the Event (Admin -> Codetsets -> Event -> Options -> Edit)

b) But you can also set an entry price in different items or sections (Admin -> Codesets -> Items -> Option -> Edit) If an entry price is set in the item, this price takes precedence over the entry price setup from the Event.
!! To setup a different price for each item, do the following: i. Login to myStage with your admin user name and password then navigate to the admin panel, then click on Codesets

ii. Alongside the item that the price need to be updated, click on Options, then select 'Edit'. Set the price under the 'Entry Fee' section and Save Changes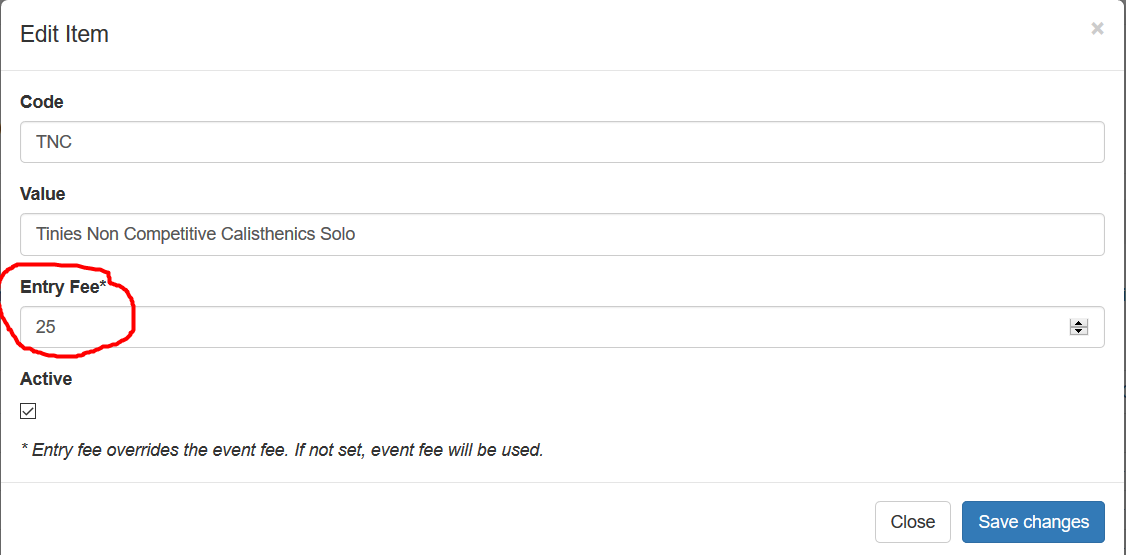 c) Another place where an entry price can be set is on the performance type tab of myStage.
i. Login to myStage with your admin user name and password then navigate to the admin panel, then click on Codesets, then performance types

In the performance types, you can set entry pricing based on the key categories, such Solos, Duos items or Teams. So this means every section with that performance type, Solo for example, the price setup here applies to all of them. From the performance screen, for teams or duos, you can set an entry price per a competitor.