Overview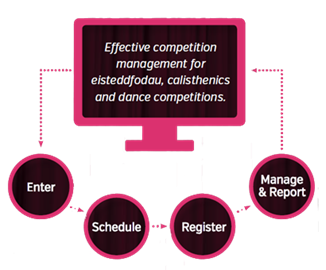 myStage is an online competition an event management system that improves communication and management of Eisteddfodau, Calisthenics and Dance competitions. All information is shared in real-time, so everyone is up to date with the current status of the competition. myStage comes with simple and yet effective Entry system that is stress free for both competitors, parents, coaches as well as Competitions organisations.
Entries, Registration, Stage Management, Adjudication and Results can all be managed with myStage. Late withdrawals, order changes and much more can be easily be communicated to all involved. This sharing of information can dramatically reduce time spent by event staff taking messages around a venue.
Results are entered immediately and can be reported after each competition as soon as they have been announced, saving administration time.
Benefits
myStage makes running of a competition as 'stress free' as possible by automating time consuming processes.
End to end competition management tool (Entries and Registration)
Registration, Stage Management, Adjudication, Results Reporting and more can be managed efficiently through myStage.
Information distribution in real time so everyone is well informed about the status of the competition at all times
Saving precious time as myStage automates tedious manual processes
No need to do run arounds to communicate messages as this can be done through myStage
Easy to use – built with the theme 'make things easy'
Commonly Asked Questions
Is myStage hard to use?
myStage is designed to be as user friendly and easy to navigate as possible.
It is also meant to resemble the paper based system that most volunteers may be familiar with.
I don't know how to use a computer'
No computer literacy skills are required, just the ability to click on a button or a link. It is built for people who are not technology savvy, so you don't need to know anything about computers at all.
What if I do something wrong?
If you accidentally delete a user, change a competitor status or anything else, don't worry!
The myStage team or your competition convenors are trained to help out. We know accidents can happen and thus we have built 'reverse' abilities to restored functions back to the desired state. To reach out to myStage support, from myStage website, click on the question mark at the top right of the page or simply email info@mystage.net.au
Can I provide feedback?
Yes. We welcome your feedback. We want to keep improving the system to work well for your competition, so any feedback is better than no feedback. Please send feedback to info@mystage.net.au