Getting Started
When using myStage for competition day management, there are a number of different user types that might be used. These are setup by the competition, but could include:
Registration / Check-in
Stage Management
Chairperson
Timing
Adjudicators
Lighting / Sound Technicians
The instructions here will explain if certain tasks might only be available for certain users.
Login to myStage
To access myStage, follow this link: www.myStage.net.au
On the home page click Sign in and enter your username and password.
Tip
Competition administrators will have a set of user accounts for each competition, speak to them for details.
If you are logged in during the competition days, you should be able to see the Sections for the current day. At any stage you can log out of myStage by clicking on the arrow at the top right and choosing log-out.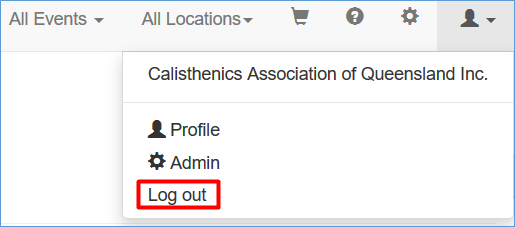 Lost?
If you ever get lost, you can go back to the home page by clicking the Home button or the myStage logo.

Viewing Entry Information
You can view the list of Competitors, Disciplines or Sections in the system for the organisation you have access to. To view competitors for your competitions, click on Competitors menu at the top of the page, for a list of sections click on Section menu and select a Section